Wed, 13 July 2016
PRODcast 127: We'll Figure Out a Title Later
Hello! It is we, the based ball mens. We made sound thing for you! It unfold like this:
- The Open, where we are a total mess.
- The Musical Guest: PUP. Buy "The Dream Is Over" here; stream in on Spotify here.
- The Email o' the Week: Ritchie (@ritchieage) wonders if we actually need to be told that dinged dongs are going "back" before they are "gone."
- The Baseball Things:
We discuss the HR Derby at painstaking length

We discuss the All-Star Game a little

We also inveigh about destroying young pitchers' arms and laud the new high-school pitch count rules

Game time: Riley & Ian attempt to name the starting 9 for the BARVES & TWINT (

respectfully borrowed from Andy & Pedro's podcast, Sportswriter's Blues)
- The Old School Player o' the Week is:
RANDY "JUNKMAN" JONES
"Junkman" earned the nickname because of his filthy sinker, not his literal junk. He's the proud owner of some plus #DADLAP, plus #DADHAT (when he actually wore one) and some elite locks that fall somewhere between Richard Simmons merm and Phil Spector's beehive.
Jones was born in Fullerton and went to Chapman University, was a 5th round selection of the Padres in 1972, made his big league debut in 1973, was a 20-game winner and All-Star in 1975, a 22-game winner, All-Star and CY Young Award winner in 1976, and fell off a cliff (not literally) quickly thereafter. That was due in large part to the Padres being exceedingly shitty from 1976 to 1980 (and beyond). He had a 2.24 ERA (3.23 FIP) in '75, and won 22 games and pitched 25 complete games in '76. Jones was traded to the Mets in 1981 and no longer a MLB player by 1983.
After his playing career he coached young players (Barry Zito being the most prominent), opened a couple restaurants, started a catering company – Randy Jones Buckboard Catering – and has his own BBQ sauce.
---
Tue, 5 July 2016
PRODcast 126: One Every Three Months, Whether You Need It or Not
Whoa, we're back! For now. Here's what happen(s)(ed):
- The show open, with Not Jose Mota!
- The Musical Guest: The Drones. Buy "Feelin' Kinda Free" here.
- The Email of the Week: Which players should have dreadlocks?
- The Baseball Things:
The All-Star Game rosters
Midseason review
Zack Hample and Marlins Man shold both delete their accounts
Bring back Gorilla Ball
Big Papi can't actually retire now
Stop beating up and sexually assaulting women, goddammit.
- The Old School Player of the Week is:
HENRY CRUZ.
Henry Acosta Cruz was outfielder and pinch hitter for the Dodgers and White Sox from 1975 to 1978. In 310 career ABs, Cruz hit .229 w/ 8 HR and 34 RBI, which explains why his MLB career was so short lived. Following his glory days, he spent 4 years in the Mexican league, 10 years and a scout for the Indians, and (according to Wikipedia) he is currently the director of the Dodgers' baseball academy in the Dominican.

During his playing days, Cruz looked like he was a part of the witness protection program, donning a thick mustache, 70-grade lambchop sideburns, 70-grade tinted #dadglasses, and a 60-grade #dadhat.
---
Mon, 11 April 2016
PRODcast 125: How Hard Is It to Slide into a Base?
Welcome to the second episode of the new leaner, meaner, and more in-betweener Productive Outs PRODcast. Here's what's in store for ye:
The Open.
The Musical Guest: Close the Hatch. Buy "Death & Resistance" here.
The Email o' the Week: Zak writes in to discuss baseball and music.
The Baseball Things.
How hard is it to slide into a base? How much harder than that is it to stay on said base? Come on, guys.
Who the fuck is Trevor Story?
Robertson Canoe's hot stort
Halos be shifting like crazy – a not-so subtle fuck you to Jerry Dipoto?
O's off to a hot s

tart, TWINT & BARVES not so much
The Old School Player of the Week is:
STEVE SHARTS.
This is a deeeeep cut. Sharts, whose name is a sentence, never played in the big leagues, but spent six years in the Philadelphia Phillies organization as a middling left-handed reliever between 1985 and 1990. He spent two years at AAA Scranton Wilkes-Barre, and posted decent numbers, but never got the call … which is probably a good thing because and announcer saying "Steve Sharts on the mound for the Phillies" would have broken the Internet before the Internet even existed.
He also looks an awful lot like Thomas Middleditch from Silicon Valley and Tom Kenny from Mr. Show (and Spongebob).
---
Tue, 5 April 2016
PRODcast 124 - Like a Nice Bowl of Bran
Hello, this is the new and (hopefully) improved PRODcast – an easy-to-digest nugget of baseball and music that should pass through your system without causing bloating, headaches and/or abdominal discomfort. It's like the All-Bran of podcasts.
Musical Guest: WHITE DENIM. Buy it here.
Email from an Internet Superhero
Baseball Things
BASEBALL IS BACK! (Have you heard of it?)
Our picks to win each division + wild card teams
Things we're excited about/not excited about seeing this season
A full season of Correa, Bryant, Buxton,

The Mets rotation

If Jered Weaver can crack 80MPH

More Mike Trout
Hot dog Twitter, Wrestling twitter, Twitter in general

MLB.tv ads

This season's installation of Unwritten Rules enforcement
Old School Player of the Week: Tito Fuentes
Fuentes spent 13 seasons in the bigs as a 2B, SS, 3B with the Giants, Padres, Tigers and A's, and posted a career OPS+ of 82 and batting average of .268. And while his sub-replacement level play is a fine reason to pick him as the OSPOTW, it's not the real reason we picked him. We picked him because he is both a card carrying member of the "windbreaker underneath the uniform" club, and the founder of the why the fuck are you wearing a headband?" Club. Sometimes he wears the headband under his hat, sometimes it's over the hat, sometimes it's just a solid color band, sometimes he writes TITO in sharpie on the headband. It's curious, confusing, and mostly dumb.
---
Thu, 12 November 2015
PRODcast 123: The Year-End Episode
This is it! The last show of 2015. Thanks for hanging out with us this season. Y'all made it fun. And weird.
(0:00-3:21) The Open
(3:21-7:30) The Musical Guest: LOMA PRIETA. Buy "Self-Portrait" here.
(8:03-25:27) Emails from the Internet's True Heroes
(26:07-1:03:44) The Human Guest: Andy McCullough of the Kansas City Star talks Gordo, Locain, Yost, and indie rock (?)
(1:04:17-1:19:49) Some baseball things that happened today, who cares
(1:20:30-1:27:25) The final Old School Player of the Week of 2015 is...
KEN REITZ
Ken Reitz, who was nicknamed "Zamboni" because he scooped up grounders on Busch Stadium's artificial turf, spent 11 years in the bigs (he gets a MLB pension!) as a third baseman with the Cards (twice), Cubes, Giants and Pirates. In those 11 years, while playing a position dominated by quality offensive player, he hit .260, with an abysmal .290 OBP, and .359 slugging. (That's a .649 OPS if you're keeping score at home and aren't good at maths.) Reitz won a gold glove in 1975, and was an All-Star in 1980 despite posting a -0.7 bWAR that year. WAR was not a friend of Ken's, as he finished his career with whopping -3.2 wins above replacement.
A #FUNFACT from Wikipedia: Reitz was not known for his base running speed. This is reflected in one dubious Major League record. Reitz holds the record for most career plate appearances (5079) among non-catchers who finished their careers with fewer walks than times he grounded into a double play.
That explains that anemic OBP, I suppose.

Reitz belongs in the DADHAT Hall of Fame, despite evading everyone's DADHAT radar up to this point. His mustache is pure 70s porn, and his hairdo is best described as a man sitting in a barber's chair holding a picture of a mushroom and telling his barber, "Make me look like that."
---
Wed, 28 October 2015
PRODcast 122: The Whirled Serious
This is the last show of the actual season, as we'll take next week off to mourn the profound loss of baseball and play some rock shows. Back in 2 weeks though!
(0:00-4:21) The open, where we tell you what's in store and commiserate about our intern situation.
(4:53-9:15) The musical guest: HEAT DUST. Buy "Heat Dust" here.
(9:15-27:49) Emails from Canada's best inbox-stuffers
(28:25-45:12) The baseball things
The World Series is upon us, and the Royals are rolling

Ruben Amaro is now … a first base coach?
Scott Servais is now an MLB manager but has no experience
Bud Black is one again and has lots
(45:45-51:05 ) Musical advice: How do you practice playing the drums when you ain't got no drums?
(51:05-56:34) This week's Old School Player of the Week is:
Lynn Jones
I had to go with a Royals player this week, and while Buddy Biancalana, Steve Balboni or Pete LaCock would have been a better (and more obvious) choice, I decided to go with the lesser-known Lynn Jones. Jones spent eight years in the bigs between 1979 and 1986, and won a ring with the Royals in '85 as a 32-year-old extremely shitty outfielder. (He had a 44 OPS+ that season.) In those eight years and almost 1000 ABs, Jones hit seven bombs, drove in 91 runs, slugged .321, and posted a -2.2 bWAR. Looking at his pics, you'd have to think that they kept him around solely because of his 80-grade DADGLASSES. (He might be crosseyed, which would explain a lot.)
After his playing career ended, Jones went on to coach in both the minors and majors, most recently in 2004 & 2005 with the Red Sox (dude's got two rings!), and is now a coach at his alma mater, Thiel College (which may or may not be a real school).
He also looks like Chris Freeman from Manchester Orchestra, and Thorny from Super Troopers.
---
Thu, 22 October 2015
PRODcast 121: WE ARE MURPHING SO HARD RIGHT NOW
It's almost the Whirled Serious and we are MURPHING so hard rn.
(0:00-6:00) The open, where we give you the show rundown and the latest on the OLiver saga.
(6:35-10:18) The musical guest: CULT LEADER. Buy "Lightless Walk" here.
(10:18-21:50) Emails from the Internet's Best Typists
(22:24-48:33) The human guest: David Roth of Vice Sports
(49:20-1:18:35) The baseball things
the TBS pitch tracker is still drunk

Broadcast booths and commercials: still awful

Cubes v. Meats

Jays v. Royals

Barry Zito has retired from baseball to become a professional musician

Donnie Basebulb is out as Doyers manager
(1:19:07-1:25:31) This week's Old School Player of the Week is:
RICK SWEET
Rick Sweet, who was taken in the 3rd round of the 1975 MLB draft, spent three years in the bigs as a catcher for the Padres, Mets and Mariners. In 272 career games, he hit .234 with 6 HR and 57 RBI, a .584 OPS and a 63 OPS, which was good for a -0.1 bWAR. He's been a minor league manager for many years, most recently as the skipper for the Nashville Sounds in 2014 & 2015 (the AAA affiliate of the Milwaukee Brewers).

The only sweet thing about Rick is that 80-grade pushbroom mustache, a 60-grade coif, and (depending on the photo you're looking at) 60-70 DADHAT which is most often a SADHAT.
---
Wed, 14 October 2015
PRODcast 120: OH, CANADUH!!!
Can you even after today's Jays-Rangers game? We can't! But we try. Because we must.
(0:00-7:08) The Open
(7:43-11:00) The Musical Guest: PIG EYES. Buy their stuff here.
(11:00-29:10) The Emails
(29:38-46:18) The Human Guest: Mauricio Rubio of Baseball Prospectus and BPWrigleyville
(46:50-1:02:40) The Baseball Things:
Astros: doomed by a bad 'pen

Royals: frustratingly stubborn and good

Ragnars: that was one helluvan implosion

Jays: our odd friends to the North

Doyers: Utley, Kershaw, and Greinke slide into a bar...

Mets: ridiculous rotation

Cubes - Schwarber is beasting, actually they're all beasting, they're in the NLCS!
(1:02:40-1:08:21) The Old School Player of the Week is:
RAFAEL RAMIREZ
a suggestion of Erick B - @ebenSF on Twitter, I went with Rafael Ramirez. He has a 60 FRO, 60 CREEPSTACHE, 60-65 DADHAT, a 70 DADLAP, and looks either completely terrified or totally confused in most photos I've found of him.
Ramirez spent 13 years in the bigs with the BARVES and Astros primarily as a SS, finished with negative WAR in six of those 13 seasons, and somehow finished 16th in the NL MVP vote after posting a 7 HR, 58 RBI season with a .705 OPS and 2.1 WAR. And he was an All-Star in 1984 even though he finished that season with 2 HR, 48 RBI and a .621 OPS. His Wikipedia page notes that he lead the league in double plays for four straight years (which is great because that's not a stat that matters at all). He was basically a worse Neifi Perez with better hair and a much more interesting face.
---
Thu, 8 October 2015
PRODcast 119: Grievances
(0:00-3:00) The open!
(3:55-13:20) Musical Guest: Kowloon Walled City. Buy "Grievances" here.
(13:20-29:00) Emails from the Internet
(29:35-52:00) The Baseballs: Playoffs, Personnel Changes, and Other Sundries
The play-in games
Sean Rodriguez hates Gatorade
Matt Williams and Co. got shitcanned, but LOLyd McCLOLndon hasn't been shitcanned … yet
New GMs in the AL West: Dipoto, Eppler, and Forst
Dogders-Mess; Crads-Cubes
(53:00-1:0:00) Old School Player of the Week:
JERRY REED
Not to be confused with the country singer and actor of the same name.
80 Creepstache, 70 Deathgaze, 60 Merm/Mullet, 60 DADHAT (during the Phillies years, it looks like he kept his hat in the trunk of his car or stuffed between the cushions on his sofa)
If you stare into Jerry Reed's dead eyes for long enough you will begin to feel your soul crater. Early in his career, he had a strong "Creepy Uncle" vibe, but developed a strong 80s cop/extra on the show "CHiPs" look towards the end of it.
Reed pitched in parts of nine seasons with the Phillies, Indians, Mariners and Red Sox from 1981 to 1990, appeared in 238 games (all but 12 in relief), and posted a 20-19 record with a 3.94 ERA, 4.15 FIP and a 1.354 WHIP and 18 saves.
Via Diamond Mines scouting report from 1988, he was described as a journeyman pitcher with mostly average stuff: 5 FB, 5 SL, 5 CH, 4 control. The perfect replacement-level arm.
---
Thu, 1 October 2015
PRODcast 118: I Can't SPROTS
Hello! We can no longer SPROTS. Can you too?
(0:00-4:55) The open, featuring our first ever sponsor: fandrool.com!
(4:55-7:05) Musical Guest: Chvrches. Buy Every Open Eye here.
(7:45- 24:15) Emails From The Internet
(25:00-52:52) The Baseballs - Playoffs, Unwritten Rules & Stuff
Playoff chatter - who's in, who's out, who's got a shot, who doesn't
The AL West is bonkers
AL MVP: Trout v. Donaldson - We have another stupid debate coming
Papelboner vs. Brace Hyper - fighting is dumb
Bud Norris - being a racist is also dumb
Dipoto to Seattle
(53:32-1:00:40) Musical Advice From These Guys
A burgeoning guitarist asks: How do I guitar?
Do I go down the route of just getting a guitar and teaching myself via YouTube videos, websites and books or do I get lessons?

(1:00:40-1:06:00) Old School Player of the Week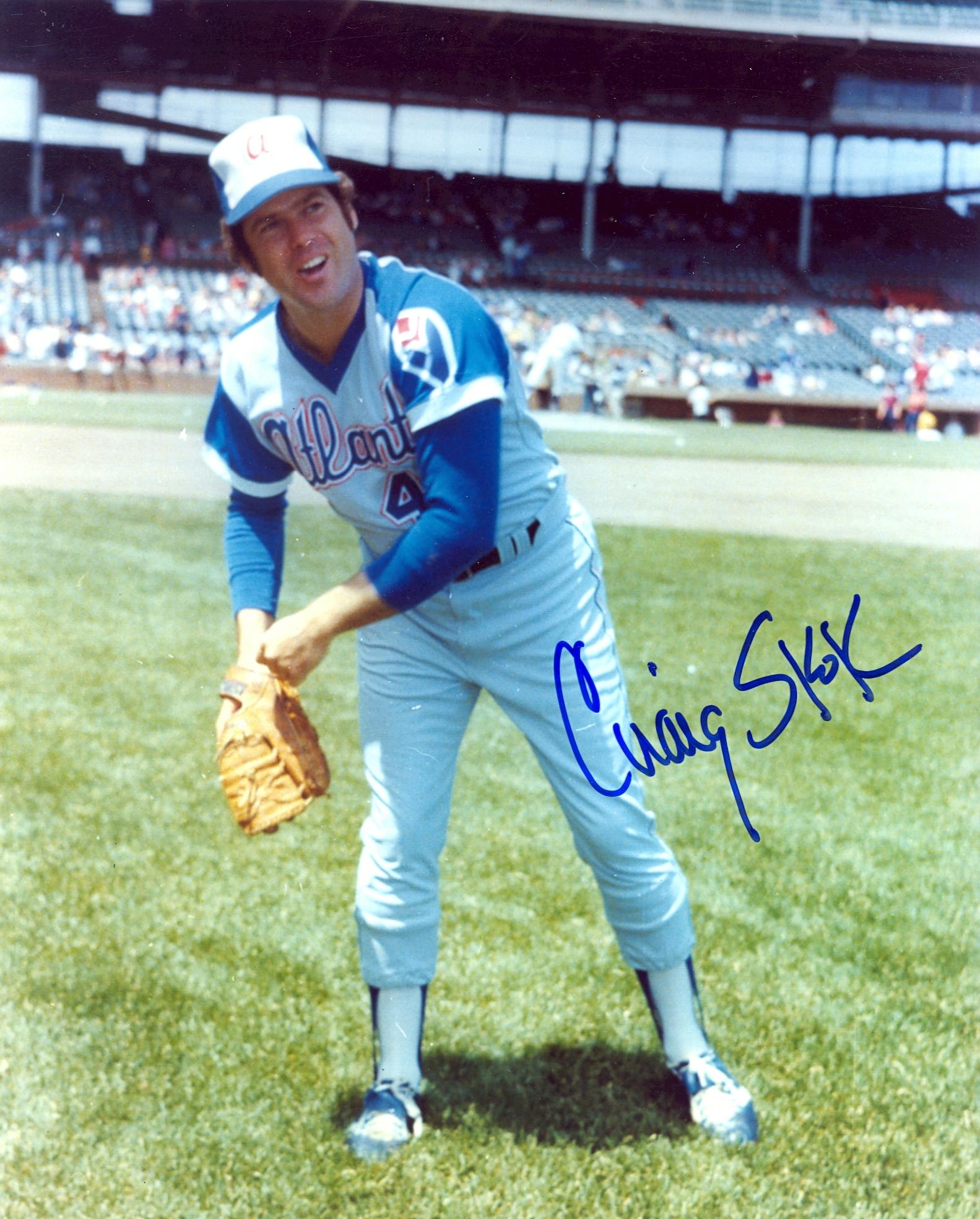 I found a guy who sucked. Craig Skok.
Craig Skok has an 80 Name, 80 DADHAT, and 60 DADLAP, and is a card-carrying member of the windbreaker-under-the-uniform club. He spent a portion of four seasons in the major leagues as a left-handed reliever with the Red Sox, Rangers and Barves. Craig Skok was not very big, weighing in at 190, but his length appealed to scouts. Craig Skok is hard to accurately describe given his short time in majors. Craig Skok disappeared in 1977, when he was released didn't play baseball at all. In 150 career innings, he went 4-7 with a 4.86 ERA.
And his middle name is Richard.

That's about all we know about Craig Skok.
Bye!
---