Wed, 9 September 2015
PRODcast 117: What A Fool Believes
This week's episode is a short sharp shock to your Matt Harvey-fatigued brain. Get in, get out, get back to work.
(0:00-5:50) The open, and our musical guest: MICHAEL FREAKING McDONALD
(6:30-24:44) The emails
(25:13-42:48) The baseball things:
The Angels and Giants have collapsed, and we as fans are left with nothing
The Rangers are rolling, and only a game behind the Astros … how?
The Blue Jays are destroying, run diff of ~200 (196), ~100 (88) more RS than any other team
NL seems to be pretty much wrapped up - LAD, STL, NYM, PIT, CHC
Matt Williams is a bad manager, maybe the worst
Cardinals still employing Devil Magic
(42:35-49:27) THe old School Player of the Week Is:
BOB DETHERAGE
This is the only known photo of Bob and his 70-grade DADHAT, DADGLASSES, STORKNECK, and PORNSTACHE. Bob was a lanky OF who played in 20 games for the Royals in 1980. In 26 career ABs he posted a .308 BA w/ two doubles, a bomb, seven RBI and a stolen base. And that was it. After spending 8 seasons in the minors, he sniffed the bigs for 20 games, played one more season at AAA Omaha in 1981 and hung 'em up at age 26.
---
Wed, 12 August 2015
PRODcast 116: THE EMAILS, THE EMAILS
Welcome to the almost-all-email edition. If this show sucks, you have only yourselves to blame!
We'll probably take a haitus after this one, as real life is inflicting itself upon us. We hope to be back soon!
(0:00-3:15) The open
(3:58-7:10) The musical guest: TEMPLES. Buy "Sun Structures" here.
(7:10-27:20) Email segment 1
(28:05-57:36) Emails segment 2
(58:10-1:07:47) The baseball things:
Blue Jay never gon' lose agin
DiPoto to Red Sawx
Iwakuma no-no
(1:08:24-1:21:10) Musical advice
Jordan asks how we listen to new albums
Tony asks about buying used gear and our feelings about the current state of the Barves
(1:21:10-1:27:20) And the Old School Player of the Week is:
AL COWENS
Al Cowens grades out as follows: DADHAT, 70 AFRO, 60 DADLAP, 70 DADGLASSES
Born in Compton, he could pass for Humpty Hump from Digital Underground in a baseball uniform. He looks confused as hell in most photos which is probably due in large part to this …
Cowens was drafted in the 75th round of the 1969 MLB draft, but managed to play 13 seasons in the bigs with the Royals, Angels, Tigers and Mariners as a right fielder. He peaked with the Royals in 1977 at age 25, posting an .885 OPS, w/ 23 HR & 112 RBI, a bWAR of 5.3, a second place finish in the AL MVP voting and a Gold Glove. He never sniffed that kind of production again and died of a heart attack at age 50. Baseball and life are weird things.
via Wikipedia:
A notable feud started between Cowens and Texas Rangers reliever Ed Farmer early in the 1979 season. In the May 8 game at Arlington Stadium, a Farmer pitch thrown in the top of the 5th inning fractured Cowens' jaw and broke several teeth;[1] Cowens would miss 21 games. Farmer also hit Cowens' teammate Frank White in the same game and broke his wrist[2] and caused him to miss 33 contests. The following year, in a game between the Detroit Tigers and the Chicago White Sox at Comiskey Park on June 20' 1980' Cowens (now a Detroit Tiger) hit an infield grounder against Farmer (pitching for the White Sox). While Farmer watched his infielder make the play, Cowens ran to mound and tackled the pitcher from behind, instead of running to first base; getting in several punches before the benches cleared and the two were separated.[2] Cowens was suspended for 7 games and a warrant was issued for his arrest in Illinois' forcing him to skip the remainder of the series. Later Farmer agreed to drop the charges in exchange for a handshake' and the 2 players brought out the lineup cards before the game on September 1. However, future appearances for Cowens in Chicago were greeted with a "Coward Cowens" banner.
Related: Ed Farmer seems like a dick.
---
Mon, 3 August 2015
PRODcast 115: Blame Canada
We have a wonderful, semi-Canadian-themed episode for you this week! We hope you enjoy it.
(0:00-5:10) The open
(5:48-10:18) The musical guest: CHELSEA WOLFE. Buy "Abyss" here. Stream it here.
(10:18-22:13) Generally baseball-themed emails from non-Canadians with bonus Heavy Metal Bands to Jack Off To segment
(22:52-46:18) Our human guest: Drew Fairservice of the Birds All Day podcast, talkin' all things Jays.
(46:57-1:09:14) The baseball stuff. Mostly trade-related, with some bonus other nonsense.
Carl O'Sgomez to the Astros

Leake to the GAINTS

AJ Preller and the Padres don't do nuthin'

Cespedes to the Mets

Haren to the #CUBES

Parra to the Orioles

CJ Wilson is done, but his teammates don't believe him, Weaver might be done too

The Hiroshima Carp wore denim uniforms because Japan
(1:09:52-1:14:44) This week's Old School Player of the Week is:
WILLIE MUELLER
70 Merm, 70 DADGLASSES, 30 stache, 60 DORKHAT
Mueller was a brutish 6'4", 220 lb. reliever who pitched in two seasons for the Milwaukee Brewers (1978 & 1981). In those two seasons, he pitched in six games, logged 14 ⅔ innings, posted a 6.14 ERA and a 1.773 WHIP. He spent 10 years toiling in the minors before hanging up his spectacles after the 1983 season at age 26.
Mueller's claim to fame is that he played the Duke, a menacing Yankees reliever, in the movie Major League. He's now the pitching coach at Concordia University of Wisconsin.
---
Wed, 29 July 2015
PRODcast 114: THE HOT STOOOOOOOOOOOOOOOOVE!
Your favorite player probably got traded this week.
(0:00-4:30) The open.
(5:15-7:45) The musical guest: Ryley Walker. Buy "Primrose Green" here.
(7:45-17:30) Emails from people named Chris.
(18:15-40:45) Baseball things:
Literally everyone was traded today. No on'e uniforms fit, and spelling errors abound. What are we going to do with all these leftover bobbleheads??
Cueto & Zobrist to the Royals, Kazmir to the Astros, Tulo to the Blooj A's, Latos & Morse to the Dodgers, Papelboner to the Nats, Hamels to Rangers, Gomez to Mets (OR NOT), LAD/ATL/MIA three-way
(41:17-46:40) Musical advice: If you choose to sit down at a show, have you given up on life?
(46:40-53:40) This week's Old School Player of the Week is:
MIKE PROLY
I discovered this gem last week and couldn't resist the urge to flood our Twitter feed with pics and things Mike Proly did. Some of my favorites …
Mike Proly wishes he didn't have to wear that dumb [White Sox] uniform, amirite?

Mike Proly went a little overboard at the bar last night.

From Drew Fairservice: "Mike Proly drives a Trans Am. Mike Proly is the physical embodiment of despair on on a baseball card."

Mike Proly locked himself out of his apartment and thinks he proly left the stove on.

Mike Proly thought his girlfriend Crystal was being honest when she said she was quitting stripping so she could go back to school.

Mike Proly thought he'd have more time to work on the 1983 Pontiac Firebird that's been on blocks in his front yard for 17 years.

Mike Proly wishes he were "anywhere but here" ALL OF THE TIME.
Mike Proly could very easily pass for one of Will Forte's SNL characters, and he is truly one of the saddest, mouselike humans to ever grace a baseball card. He's got a 60 DADHAT, a plus plustache, 70 70s hair and 80 chest hair. Proly pitched in the bigs for seven seasons (from 1976 to 1983) with the Cards, White Sox, Phillies and Cubes, primarily as a reliever. He walked 195 batters and struck out 185 in 545 ⅔ innings, and had a career WHIP of 1.330. Proly is quoted extensively in a 1985 article from the Chicago Tribune on spitballs, Vaseline balls and ball-scuffing. Apparently he did all of those things to no avail. He now sells insurance.
---
Mon, 20 July 2015
PRODcast 113: Dennis Lamp Would Like to Sell You Some Cod
(0:00-6:06) The open
(6:40-30:06) The non-Canadian emails. Stream "Opposite Field" here.
( 30:40-50:57) The baseball things.
ASG recap: Mike Trout is good, and so is the new HR Derby format
The stove's getting hot: Cueto, Hamels, Samardzija, Bruce, and more
(50:57-1:12:42) The human guest: Eric Stephen of True Blue LA.
(1:13:17-1:19:50) The Old School Player of the Week:
DENNIS LAMP
55 (70 ceiling) DADHAT, 70 DADGLASSES, PLUS-PLUSTACHE, and apparently he cloned his mustache and replaced his eyebrows with it.
Dennis Lamp played 16 MLB seasons with the Cubes, White Sox, Blue Jays, A's, Red Sox and Pirates. His peak years (1978-1980) were spent as a middling starter, but he spent the remainder of his career as a mediocre arm out of the pen. He is responsible for surrendering Lou Brock's 3000th hit, as well as Cal Ripken Jr.'s first MLB hit.

Mind blown: He has worked behind the seafood counter at Bristol Farms in Newport Beach since 2004.
---
Thu, 9 July 2015
PRODcast 112: Failure Is Not An Option, Unless You Want To Listen To Them
Don't get it twisted: Failure is ALWAYS an option.
(0:00-4:23) The open
(4:55-12:20) The musical guest: FAILURE. Buy "The Heart Is a Monster" here.
(12:20-31:45) Electronic mail from weirdos
(32:15-59:30) Pipin'-hot baseball takes
RIP Alex Gordon, RIP Miggy
Matz' latz
#FirstPlaceAstros lead is dwindling; Evan Gattis' absurd tomahawk chop
Mike Trout is beasting (again). Fun w/ arbitrary end points … last 11 games, .368/.510/.868/1.378 OPS, 6 HR, 10 RBI
Halos have won 5 in a row, 9 of last 10
Huston Street angered the baseball gods and is suffering their wrath
All-Stars announced, final votes
HR Derby field announced, who u got?
(1:00:08-1:05:10) Musical advice: What next for a new band, play shows or record?
(1:05:10) This week's OLD SCHOOL PLAYER OF THE WEEK IS...
CARMEN FANZONE
An 80-grade name. A 60 - 70 mustache. 50 DADHAT. And a 70 horn player. Fanzone played five years as a utility player and pinch hitter in the bigs with the Red Sox and Cubes. Traded to the Cubes in 1971 for Phil Gagliano, which is the most Italian trade. Never played in more than 86 games in a season, has 20 career bombs, -0.8 WAR. Fanzone became a jazz flugelhorn player after his baseball career ended.
---
Wed, 1 July 2015
PRODcast 111: The LOLZ AngeLOLZ AngLOLZ
Man, those Angels. What a shitshow, amirite? Anyway. Here's the show.
(0:00-4:20) The open
(5:00-9:45) Musical guest: MUTOID MAN. Buy "Bleeder" here.
(9:45-20:20) The emails
(21:00-50:40) The baseball things
GODDAMNIT ANGELS

Stanton's hand :(

#FirstPlaceAstros - CORREA and LOLberholtzer

The best fans in baseball root for the best team in baseball, the CRADNALZ

It's an odd year and the GAINTS are in the mix

The DOGDERS are good because -- or in spite -- of Puig?

Haha, the All Star Game though

They changed some of the HR Derby rules, but not the one that mattered: banishing Chris Berman to the depths of the Marianna Trench

Pete Rose is still a dipshit
(51:10-1:00:20) Musical advice: touring vs. fests, pro's and cons
(1:00:20-1:05:52) This week's The Old School Player of the Week is ...
VICENTE ROMO
This potato-headed, windbreaker-under-the-jersey, plus-DADHAT-sporting weirdo is a true gem. I'm guessing his hat is a size 8 ¾. And that pose he's fond of striking … it's like a half pre-creepy hug, half creepy uncle-pretends-to-be-the-boogeyman kinda thing. 100% NOT a baseball move. 100% weird.
His nickname was "Huevo", which one can only assume must be a nod to his giant dome, rather than his one gigantic testicle. (Not true.) Huevo played seven years (for six different teams) as a long reliever/spot starter in the majors before heading to Mexico for seven years. He returned to the bigs with the Dodgers at age 39 and appeared in 15 games.
Career totals: 32-33, 3.36 ERA, 3.80 FIP, 1.315 WHIP, and 1 HR on May 30, 1980 vs. the White Sox.
---
Wed, 27 May 2015
PRODcast 110: We Are Currently Occupying The Space Between Derrel Thomas' Front Teeth
Hey, y'all! We're back from turrrr and ready to talk about baseball. Have some!
(0:00-2:40) The open
(3:20-8:30) The musical guest: YAUTJA. Buy "Songs of Descent" here.
(8:30-27:20) The emails
(28:00-59:30) The baseball things
We thought we'd cursed the Astros with our last PROD, but we guess we didn't
The TWINT are good?
The Royals are telling PECOTA to eat it
The A's are a garbage fire
Bryce Harper is a golden god … finally
Pitchers be goopin' their forearms
Dan Jennings is General Manager Manager
When will TRAID season heat up?
(1:00:00-1:09:05) Musical advice: Balancing creative endeavors and "real life" -- can it be done?
(1:09:05-1:12:05) The Old School Player of the Week:
DERREL THOMAS
70 grade DADGLASSES, 70 grade DADHAT, 80 grade DADLAP, 80 grade TOOTHGAP
Can we be certain that this isn't an alias for Ron Washington? A Dave Chapelle character? A figment of our imagination?
Thomas played 15 seasons for the Astros, Padres, Giants, Dodgers, Expos, Angels and Phillies as a 2B, SS and OF. He had a career average of .249, OPS of .649, OPS+ of 84, a career WAR of 6.6. Thomas was a part of the Dodgers' WS championship team in '81, holds the unique distinction of playing every position (except pitcher) in the bigs, and currently coaches at the Adrenaline Athletic Training Center in Riverside, CA.
---
Mon, 4 May 2015
PRODcast 109: #FirstPlaceAstros
As the title suggests, this week's show is all about the Phillies.
(:40-2:33) The open, wherein we lay out our thesis statement
(3:06-7:20) The Musical Guest: COLISUEM. Buy "Anxiety's Kiss" from Deathwish (physical and digital) or from Bandcamp (digital only).
(7:20-19:18) Your emails get read
(19:48-47:00) Our Human Guest: James Yasko of Astros County
(47:32-1:01:40) The Baseball Topics:
#FirstPlaceAstros
Roen Ronicke got douched
R.I.P. Jeff Karstens, True Face of MLB
(1:02:22-1:08:20) The Old School Player of the Week:
80 DADHAT, 70 CREEPSTACHE, 70 DADLAP
10 years in the bigs as a MIF with the Pirates, Indians, Mariners and Cubes. Career WAR of 1.8, OPS of .608.
That time the Yankees almost traded Mariano for Felix Fermin.
Goodbye!
---
Mon, 27 April 2015
PRODcast 108: Cool Your Jets
Unlike our usual shows, this one is actually good! We encourage you to listen.
(0:00-3:48) The open
(4:20-8:15) The musical guest: SQUAREPUSHER. Buy "Damogen Furies" here.
(8:15-22:57) Email from around North America
(23:24-49:44) A discussion with Jess Spector of The Sporting News
(50:20-1:20:10) The baseball topics
#FirstPlaceAstros
The Royals want to fight everyone
Josh Hamilton goes back to TEX, the AngLOLs are a joke
Wainwright's achilles, Scherzer's thumb - THE DH ARGUMENT IS BACK! Pick a side. Or don't.
The Brewers are hot garbage
Orioles and MLB making the right descisions in the face of some heavy real-life shit
(1:20:37- 1:30:05) The Old School Player of the Week:
CRAIG KUSICK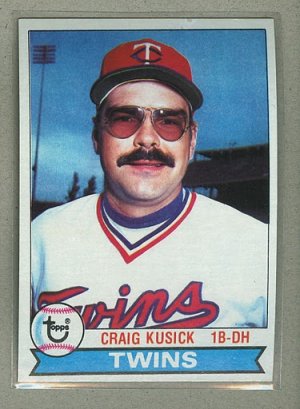 70 DADGLASSES, 70 DADHAT, 70 DADLAP, 60 STACHE
Kusick, who looks like he won an invite to baseball fantasy camp, was an honest to goodness MLB player from 1973-79 with the Blue Jays and Twins. A 1B/DH, he posted a career average of .235, 105 OPS+, and 3.8 WAR. He also pitched in a game for the Blue Jays in 1980, a 24-2 loss to the California Angels, and went 3 ⅔ innings and giving up 2 ER on three hits (one of which was a bomb). If you were to see a photo of him at any point in his career, "professional athlete" would be about the 278th occupation you'd peg him as having.
Kusick is now deceased, but will remain awesome forever.
Bye!
---