Tue, 14 October 2014
PRODcast 97: Joe Beimel: Punk Rock Fan?
Hello, ladies.
- Open (0:00-6:50)
- Emails (7:35-20:45)
- Musical guest: OBLITERATIONS. Buy "Poison Everything" here.(21:23-24:15)
- The baseball talk (24:15-55:35)
NLCS - GAINTS & CRADS are battling

ALCS - Royals continue to win in exciting fashion

That #JABO broadcast: ehh?

Andrew Friedman to the Dodgers: WHAT DOES IT MEAN?

Chip Hale is the DBacks' new overlord: WHAT DOES IT MEAN?
- Musical advice: What does a tech actually do? (with bonus boner talk!) (56:20-1:12:45)
---
Wed, 8 October 2014
PRODcast 96: Mac Suzuki
It's Championshp Series time! Can you feel the excitement? NO?? Well, hopefully this podcast will help.
Or take one of the many boner pills advertiesd during the games. Maybe you've got low T.
But now, on with the show!
- Open (0:00-7:45)
- Emails (8:25-26:30)
- Musical guest: NOTHiNG. Buy "Guilty of Everything" here. (27:12-30:57)
- Human guest: Grant Brisbee of McCovey Chronicles and SB Nation. (30:57-50:34)
- The baseball talks: (51:14-1:17:26)
The Cardinals somehow beat the Dodgers
The Gaints somehow beat the Nats
The American League also happened, and the Royals are an unknown quantity
BASEBALL DADS: A LOVE STORY (it's real)
- And we out. 1:18:00-1:22:06)
---
Tue, 30 September 2014
PRODcast 95: Takahito Nomura. Who?
Short and sweet this week, kids. Short and sweet.
- Open: Takahito Nomura and Glidden paint: both are awful (0:00-5:58)
- Emails: one of the best email segments we've ever had, maybe. (6:42-19:20)
- Musical guest: PUIG DESTROYER. Buy their self-titled full-length here. Pre-order t-shirts here. (20:23-22:06)
- The baseball things: (22:06-39:23)
It's all about them wild card games, yo! Win or go home! SO STRESSFUL.
Managerial and GM changes in Minnesota, Houston, and Arizona
- Musical advice question: Riley and Ian begrudgingly recount their time in bands in the '90s and 2000s (40:48-51:31)
- See you next week!
---
Tue, 16 September 2014
PRODcast 94: Strikes Are Horrible And We Should Not Have Them
We're 94 episodes into this thing, and we thought we shold finally make an effort. Tune in and see if you can tell!
- Open (0:00-8:40)
- Emails 9:18-36:02)
- Musical guest: PHORIA. Buy "Bloodworks" here. (36:42-40:00)
- Human guest: Andy McCullough, Royals beat writer for the Kansas City Star. (40:00-
- The baseball things!
Ron Washington might've stepped down because of sexual assault charges. So why is nobody talking about it?
Chris Davis gets popped for Adderall. Whoops!

Why are the Yankees even thinking about bringing Tanaka back?

The playoff races are a little boring. OK, a LOT boring.

Who you got in the Whirled Serious?

ALTUVE.
- Puig Destroyer news! Check out our sweet shirts! (
---
Tue, 9 September 2014
PRODcast 93: When Being Good Wasn't Good Enough
103 wins and no postesedason berth. That hardly seems fair.
- Open (0:00-7:15)
- Emails (7:47-27:20)
- Musical guest: GAME THEORY. Buy "Blaze of Glory" here. (27:50-33:30)
- Baseball things:
RE2PECT: Derek Jeter Day at The House That Scott Brosius Built, and Derek Jeter's selfishness?

Has PitchTrax ruined baseball? (spoiler: no)

Halos & Orioles have the two best records in baseball, but their starting pitching "is not built for the postseason." Significant?

The A's continue to Brewer.

Kevin Towers gets the axe in AZ. But why now?

Ron Washington steps down in TEX. (See above)
- Musical advice: Where does the "palying it live" consideration come in the writing process?
- Au revoir
---
Wed, 3 September 2014
PRODcast 92: Dennis Eckersley's Feathered Hair Helmet
GAZE AT ITS LUSTROUS GLORY
Here's the show:
- Open (0:00-7:05)
- Emails (7:45-24:45)
- Musical Guest: THE LIFE AND TIMES. Buy "Lost Bees "(and other stuff) here. (26:20-31:10)
- Human guest: Film historian and Dodgers fan Karina Longworth. Listen to "You Must Remember This" here. (31:10-53:04)
- The baseball things! (53:38-1:19:26)
Halos sweep A's, and Shat Moomaker is having one hell of a season.

Royals survived a near Royalsing, and the Brewers have finally Brewered

Bo Porter gets the axe in Houston, people argue about Houston (again)

Jose Altuve is a goddamn warlock.

Clayton Kershaw is also p. good.

Can/should a pitcher be the MVP?
- Puig Destroyer news and a quick wrap-up. (1:20:11-1:23:43)
Thanks for listenin'!
---
Wed, 27 August 2014
PRODcast 91: Minor League Guy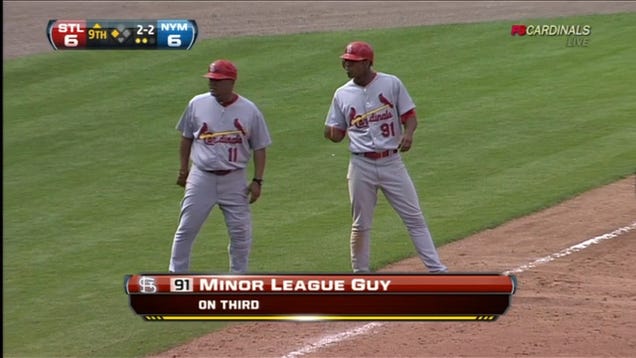 There he is, our Lord and Savior: Minor League Guy! Everything we do -- including this episode -- we do in his name.
Here's what we've got:
- The open (0:00-3:15)
- Your crazy emails (3:55-25:30)
- The musical guest: DAMA/LIBRA. Buy "Claw" here. (25:50-29:30)
- The baseball talk! (29:30-51:52)
MadBum is good. Big-Time Timmy Jim is not.
The Orioles are the least-bad team in the AL West
Same with the Royals in the Central (at least at the time we recorded this)
Halos are in first, and the AL West is gonna be a barn-burner!
Nationals look to have the NL East locked up...
... and the Pirates are pretty much done
Meanwhile Chris Carter is making a stealth run at the home run title
- Musical advice x 2: (52:45-1:05:10)
We discuss our best and worst decisions in our music careers, and
Can you enjoy your own records after they're finished?
- The week(s) in review: Puig Destroyer stuff and Ian's vacation rundown. We won't be hurt if you skip this part. (1:05:10-1:13:20)
THANKS FOR LISTENING!
---
Tue, 5 August 2014
PRODcast 90: There's A Base At The End Of This
Quick show before both of us take off for vacation and/or work. Please consume and enjoy!
- Open: Managing expectations (0:00-4:04)
- Emails: Short, sweet, and very good. (You guys, not us.) (4:51-20:33)
- Musical guest: 68. Buy "In Humor and Sadness" here. (21:15-27:10)
- Baseball talk: (27:10-49:26)
Trade deadline recap

The Angels need a starter

Everyone hates the Dbacks

Matt Cain is toast

Javier Baez and the impending rise of the Cubes
- Music and baseball question: "having a" vs. "playing" catch and what goes into sequencing an album? (50:15-1:02:25)
- Puig Destroyer non-updates and TTFN! (1:02:25-1:09:40)
---
Tue, 29 July 2014
PRODcast 89: EAAAAAARTHQUAKE!!!
Yes, we've run out of player numbers to reference. But we've made up for it with a really solid podcast. Read on...
- The open (0:00-7:15)
- Your emails (8:08-30:13)
- The musical guest: 1-800-BAND. Buy "Diver Blue" here. (31:00-35:35)
- The musical-baseball human guest: Doug Miller of MLB.com (35:35-1:03:55)
- Baseball talk! (1:04:40-1:31:25)
HOT STOVE: Deadline comin'! #HUGWATCH

Price/Zobrist fatigue

Jake Peavy, Dan Uggla, Matt Cain and the RIP Gaints

Barney Darwin to the Dodgers

The Royals are winning and it's almost August. When do they shit the bed

Isotopes vs. Aces brawl

Hall Of Fame: Eligibility shifts from 15 to 10 years, our interest in the HOF does not shift

PART TWO of "What would that player's job be?"
- Bye! (1:31:25-1:32:41)
---
Tue, 22 July 2014
PRODcast 88: Hello, We Ordered A Frank Thomas & Got A Kyle Blanks Instead
Ice is back with a brand-new invention: PRODcast 88!
- Open (0:00-3:30)
- Emails (4:05-28:50)
- Musical guest: AEGES. Buy THE BRIDGE here. Listen to "Fault" here. (29:30-34:10)
- Baseball things (34:10-1:04:10)
TRAAAAAAAAAAIDS

Yasiel Puig had a pretty shitty All-Star Game/HR Derby
- Musical advice but not really: Gilead Fest/tour recap, and Bob Uecker: An Appreciation (1:04:50-1:17:30)
- Bye!
---